Free Chat Widget
Generate Unlimited Messenger Subscribers with this FREE Widget!
WARNING:
This offer is closing
when the timer hits ZERO!
Yup. It's 100% cool.
"Great solution. Nothing beats this kind of intimacy!"
---
Wilco de Kreij
Entrepreneur, Investor & Influencer
TIP: Use the Widget Creation Tool on Desktop!
Set Up your FREE Chat Widget!
Click The Button & Set Up Your FREE Widget!
CLICK HERE TO GENERATE YOUR FREE CHAT WIDGET ➞
Setting up your widget works best on Desktop
Create your Widget in 3 Steps: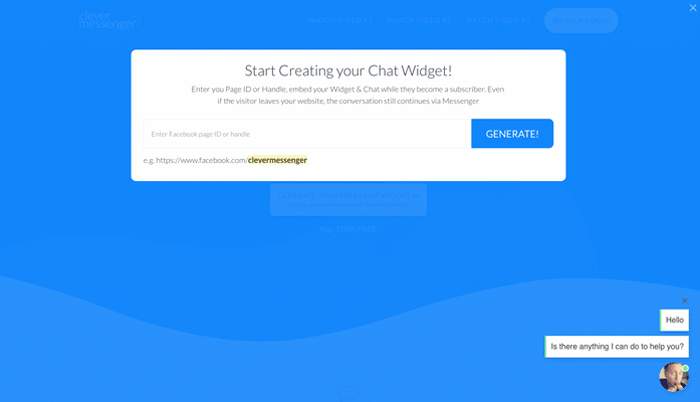 STEP 1
---
Choose the Facebook™ page you want to tie this widget to. Put the full ID (or handle) of your page inside the field and hit generate to start the creation process.
STEP 2
Configure Your Chat Widget
---
Configure your widget easily. Choose color schemes, profile picture, and attention-grabbing messages! The pop-up messages even grab attention by making a sound!
STEP 3
---
Embed the widget in the head of your site to load it on every page. Or choose to show it on only the pages you want by embedding it in the body. Easy-peasy!
So, ready to embrace the future?
We've traveled back to bring you marketing from the future.
Create your first chatbot using the Step-by-Step Wizard
Easily drag 'n drop captivating Flows by using the Composer
7 Capture tools helping you generate new subscribers
Engage your subscribers. Send unlimited broadcasts.
---
---
This offer will be gone soon! When the timer states ZERO, this offer will be gone for good. We're moving Clepher to a subscription-based service.
---
Here's Why Messenger Should Have
Your Undivided Attention
Over 1.3 billion active users
72% of people who use Messenger are confirmed online buyers.
It is the most engaging channel with average 82% open rates.
It has 4 to 10 times higher CTRs compared to email.
Response time is 20% FASTER compared to traditional messaging.
Your audience already uses Messenger day-in day-out, you and your business
should be a part of that conversation.
1.3 BILLION
ACTIVE USERS
72%
SHOP ONLINE
X4-10
BETTER CTR
82%
OPEN RATES Clepher works beautifully out of the box.
Grow your business with "back-to-the-future" like features!
An All-In-One Chatbot Creation & Marketing Suite, including Drag 'n Drop Flows & Powerful Automation Rules, Growth Tools & Super Fast Broadcasts, Live Chat, and much more…
Connect all the dots with one powerful solution.
Discover the holy grail of bot building.
AUTOMATION
Create your chatbot without coding
Drag 'n drop yourself a chatbot for Messenger without any of the tech headaches. It's easy, it's fun AND there's no coding required.
CAPTURE
Grow your business with ease
It's now easy to grow your Messenger audience. Access a complete set capture tools helping you convert anyone into a subscriber.
ENGAGE
Send messages to your subscribers
With 82% average open rates and 10x better CTR than email, Messenger is the best place to make your message heard.
LIVE CHAT
Up close & personal with Live Chat
Live Chat notifies you when your attention is needed and makes it easy to have a conversation with your subscriber.
AUDIENCE
Know exactly who your subscribers are!
This allows you to really know your audience. Automatically put them in segments, so you can fine-tune your message even more!
Configure
Specify what you want it to do
Play around with the settings of your chatbot in order to make it appear as human as possible, or not. It's all up to you!
An

All-in-one

solution packed with powerful features.
Send unlimited broadcasts
Send unlimited messages to your subscribers. You choose your limit.
Use on unlimited pages
Install & use Clepher on Unlimited FB™ Pages - no per page BS.
A/B Splittest
Test entire Flows, or all the way down to a single message. Optimize!
Easy 10 second install
No headaches. Quick, simple install. You're ready to build in just 3 clicks.
Typing indicators!
Make your chatbot come appear like a human by mimicking typing!
Conditions
Only send out messages if users match your required conditions.
Full Emoji Support
Pimp up your message & give it that human touch & feel by using Emoji!
Personalization Tags
Automate personalization. Address your subscribers by their name easily!
Webhooks
Plug everything you want inside your chatbot - next level stuff!
More ways to make it yours
Integrate the tools you already use and love.














All Messenger features served with "Clever Sauce"...
Your bot can send powerful text messages. Add emoji, pers. tags, delays and more!
If images speak a thousand words, GIFs speak ten thousand words. Funky!
Want to send videos? You can. Use this if you want to increase that personal vibe.
Send out that PDF or eBook you promised after they subscribed to your chatbot.
Beautiful listings! Use eCom integrations & easily add your products to the mix.
Carousel Ads, but for Messenger! Great if you want to spice it up!
Behavioral tagging. Add tags based on what your subscribers see and click on.
Have your chatbot perform actions based on any conditions you desire.
Let's meet at the end of the rainbow
Just jump in? The water is nice and warm.
"Messenger bots are a warm & welcoming opportunity."
---
Neil Patel
Entrepreneur, Investor & Influencer