Video #3 - A new way to say 'hooray'...
Why Messenger Should be a key part of your business strategy in 2018 & Beyond
---
---
Chat Bots Do's & Don'ts

Get the most out of chat bots - the Do's and Don'ts. Click here to Download your PDF!
Unlock Secret Bonus Video

Share this with your friends to unlock the secret bonus video and other FREE gifts!
---
Follow the steps below and win:
Step 1: Share with your friends
Once you shared this video with 3 of your friends, you receive the Chat Widget software for FREE!
Step 2: Share your thoughts
We love your feedback and your comments.
---
Once you shared this video training series with 3 friends you get access to...
Smart Messenger Chat Widget for FREE!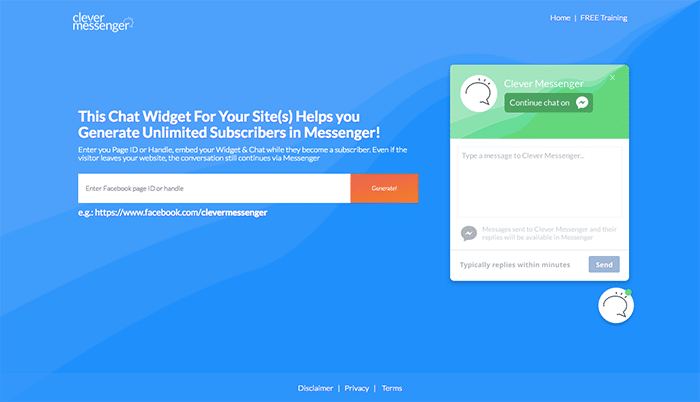 ---
Step 1
Choose your Facebook™ page
---
Choose your Facebook™ page you want to tie this widget to. Put the full address (or handle) of your page inside the field and hit generate to star the creation process.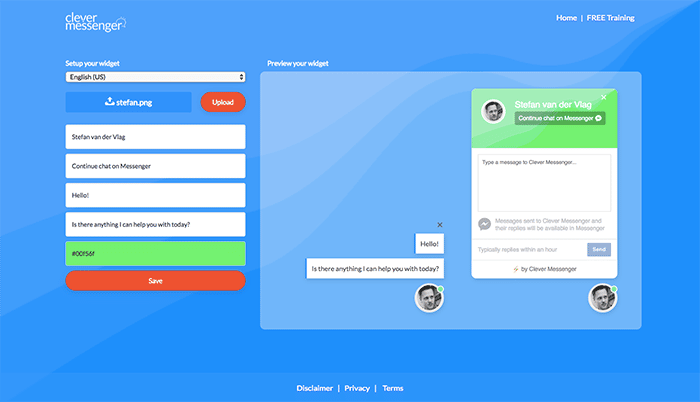 ---
Step 2
Configure your Smart Chat Widget
---
Configure your widget fully. Choose color schemes, profile picture, attention grabbing messages! The pop-up messages even grab attention by making a sound!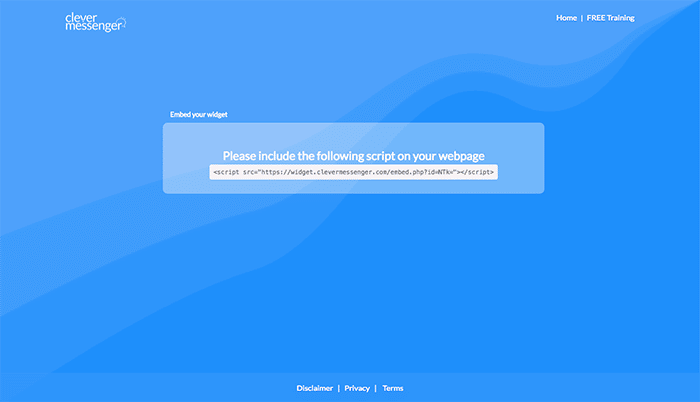 ---
Step 3
Embed your widget on your pages
---
Embed the widget in the head of your site to load it on every page. Or choose to show it on only the pages you want by embedding it in the body. Easy-peasy!
Generate Messenger subscribers from your site(s) instantly. 🙂

Unlimited Subscribers
Generate unlimited Messenger subscribers straight from your pages.

Continue in Messenger
Even if the visitor leaves your website, the conversation still continues via Messenger

Integrate Clepher
Works perfectly with Clepher - the #1 chatbot marketing suite.
Clepher is a dream come true
Clepher will go live soon. Get a full demo by clicking on the button below.
We're also giving away 2 FREE copies - you find the details below!
Clepher Goes Live:
[wp-deadline id=1]
(Opening on April 28 at 10:00am ET/NY)
When the timer hits zero you're able to get instant access to Clepher. Click the button to see a demo plus the bonuses you get on top!
CHECK OUT DEMO & YOUR BONUS!
So how do you win?
---
We are giving away 2 FREE copies of Clepher. You only need to share this FREE Video Series with at least 3 friends and leave a comment under 'step 2' on this page. 
You'll enter the contest automatically. Each verified sign-up there after will count as an additional entry in the contest. Basically, the more you share the more likely to win. Winners will be announced on launch day.