8
MIN READ
Every business needs a chatbot. Period. Why? Because every business that markets online is searching for new ways to increase reach, leads, and conversions. And a chatbot proves time and time again it can do just that. And now, with a rising buzz about Messenger Chatbots replacing email marketing, mobile apps, and customer care agents… Plus, with their ability to cause a drastic reduction in your business costs, while vastly increasing your revenue… The popularity of bots is on the rise! Especially Facebook Messenger chatbots seem to take a lot of traction lately.
Now, in the grand scheme of it all. It seems only a few businesses use this channel to connect with their customers, for business owners who aren't aware of this yet. Chatbots are a tremendous competitive advantage for your business in digital marketing. These bots can be 'programmed' to understand your customer's questions, answer them, and execute specific tasks. For most customers, they are more friendly, accessible, and time-saving.  
Having a Facebook messenger bot is a great way to scale your Facebook messenger strategy if you have one. During the 2018 F8 conference, it was mentioned that Facebook had about 300,000 running bots, which is about 3 times the number of active bots in 2017. This is only an indicator of the continuous rise in its importance and its use. 
So, if you're interested in driving traffic, increasing leads, and conversions… Or if you're interested in growing your audience and offering a better customer experience to your customers… You may need to fix Facebook Messenger Automation in your marketing strategy.
Benefits of Messenger Chatbots in Business
Let's first start with some of the benefits a chatbot gives to a business. Messenger chatbots have several benefits to your business. It doesn't matter if you're an established business in the market or a growing business.
By using a chatbot in your business, you reach your audience directly.
According to Headliners Labs, it was discovered most people are 3.5 times more likely to open and read a Facebook Message compared to a marketing email. That's sick! Also, since these customers can respond quickly (without the need to type, but by just tapping their screen), they can significantly improve your marketing funnel. In addition to this, Facebook Messenger also offers Sponsored Ads. You can use these ads to send a message to anyone who has had prior contact with your business page. This implies that your customers or prospects help you create a subscriber list by just sending or replying to your messages. And when you use Sponsored Ads in addition to your regular chatbot messages, you're able to reach out to your high-intent customers.
Save time and reduce cost.
No customer likes it when they're put on hold; every customer out there expects a 24/7 availability from businesses they come in contact with. Most customers also have tendencies to ask the same questions repeatedly. A timely response can gain you a new high-intent customer. Using a Facebook Messenger chatbot doesn't just save your customers time but also saves yours and helps increase leads conversion. This gives you the time needed to focus on other issues such as booking appointments, tracking deliveries, checking and reviewing return policies, and so much more. Plus, it saves you the cost of employing a customer care representative(s).
Keep your customers engaged.
A business that uses a chatbot can retain previously exchanged information. This retained information can give you an edge if you are willing to use it. Instead of paying for traditional Facebook ads, your bots can reach out to your customers personally and offer them important content and information at the perfect time. How about reminding your customer of his/her wish list? Or the goods and products in their carts? Or of occasions where he/she might have delivered something from your store to a loved one?
Keep Ecommerce transactions on track.
Excellent scripting matters too. Using the perfect script, Messenger bots are capable of selling also. This is an excellent idea because the drop-off rates are lower than the conventional ad-to webpage pipeline, majorly because everything happens within Facebook's confines. This method also gives room for your Messenger chatbots to perform some personalized upwelling through suggestions.
Identify and increase leads.
While your Messenger Chatbots send messages to your potential customers and prospects. It can identify their wants and needs and ask fundamental questions like, "what's your budget?" And more. When the Chatbot communicates with your potential customers, it can identify their needs, ask these customers some fundamental questions (such as, "What's your budget?"), and then direct the high-quality or high-intent leads to your sales team.
Here are 3 Business Chatbot Success Stories
It is not enough to give you the benefits of the Facebook Messenger Chatbots. It's not enough to provide examples of companies and businesses that have used this to successfully promote their businesses and move them to the next level. Several types of research and castle studies have been conducted to provide you with these results to show you the Facebook Messenger Chatbots' capabilities if appropriately utilized. These stories inspire you and give you a glimpse of what other businesses like yours are achieving and how.
LG's Electronics
LG is popularly known globally for its designs and advanced technology, which improves its customers' lives and style daily. LG Electronics has been in existence since 1958 and has continuously been manufacturing appliances since then. This company began in South Korea and has four central units it operates in. These include mobile communication, home entertainment, vehicle components, and home appliances, and home equipment.
A few years ago, LG created the LG TWINwash system to cut down water usage and save some time by doing two wash loads simultaneously. To get this to the public, majorly potential leads and customers, they drew out a plan. The business decided to use a chatbot in their marketing plan. It consisted of a goal and follow up steps to achieve this goal.
The chatbot business goal?
To create awareness of the LG TWIN Wash Machine's prominent feature, the two washers in one body, running simultaneously. Also, to develop and maintain interactions and even conversations amongst the audience and potential customers.
Action steps that were taken:
Partnered with Postcom to make personal connections while also creating awareness of the LG TWINWash Machine and it's intent

Launched the "Laundry Museum" using Messenger. To allow customers and prospects to share laundry failures and the solutions LG TWINWash offers.

A teaser video was released of some of the most popular laundry failures submitted. People who clicked the ads were encouraged to share their experiences. The audience targeted were 29-54 years old adults interested in purchasing home appliances.

Viewers who clicked the ads were automatically directed to a Messenger hub. This is where they interacted one-on-one with an automated Laundry consultant by using a pre-installed augmented reality camera. Questions were asked concerning laundry difficulties, and advice was also offered, using the LG TWINWash as a solution. Viewers were also given a glimpse of what this Machine would look like in their homes.

Viewers were offered website links to access more information and promotion on the product.

A giveaway event was held.
Results and recorded success:
Massive engagement with over 656 million impressions and about 125 million views. 457,00 ad engagements and about 60,000 Messenger engagements globally.

A 4.3 times increase in customer purchase intent.

In places such as Latin America, Asia Pacific, Europe/Middle East/Africa, a 6.6% average lift in brand recall was recorded.

In Europe, the Middle East, Africa, Asia, the Pacific, and Latin America, there was also a 2.1% median lift in message association.
Crew Clothing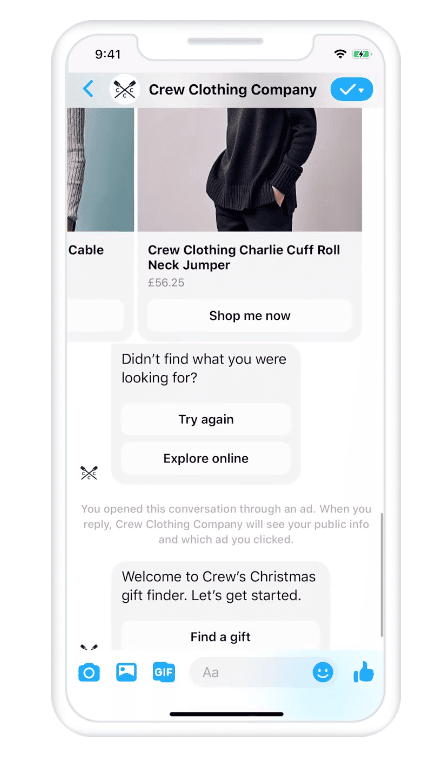 This British lifestyle brand was founded by Alastair Parker Swift on Devon's south coast in 1993. This brand has about 81 shops in several cities and towns across the United Kingdom (UK). In 2019, this British lifestyle brand made efforts towards positioning itself as an excellent brand for purchasing gifts and boosting sales by targeting the under-34-year-old demographics during the pre-Christmas period.
The chatbot business goal?
Connect the brand with gift-buyers and boost sales through a fun Messenger experience.
Action steps that were taken:
Partnered with Facebook Marketers, "The Bot Platform" to create a unique, friendly, and fun personal Messenger experience.

Use animated characters during conversations to lead potential customers through engaging questions by selectively categorizing gift options by gender, personal style, and price. After which persons could make purchases after identifying their preferred gifts

Created a short branded video alongside More2 Digital Agency; this video Ad directly leads to Messenger after clicking.

Slightly adjusted their ad copy to add the Black Friday Messaging to increase clicks and conversions.
Successful Results:
Increased engagements and conversions from interactions

5 times higher ROAS

47% conversions that led to purchases as a result of the Messenger Experience.
St. Ives
Being registered under Unilever, this skincare brand is continually producing several facial exfoliating products. Their products use only organic ingredients to reveal and enhance the skin's natural radiance and glow. In its business journey, St Ives intended to create more awareness amongst women of its products and their Enhancing natural abilities and also increase the women trying out the products of this skincare line.
The chatbot business goal?
To increase awareness and sales amongst women.
Action steps that were taken:
To reach their desired audience in the Kingdom of Saudi Arabia(KSA) and the United Arab Emirates (UAE), St. Ives worked with Instagram and Facebook. They worked with Facebook Creative Shop to create ads using the "Pitch, Play and Purge" method.

Creating and increasing brand awareness by creating engaging lifestyle ads containing strong brand messages.

Creating a skin profiling quiz on Messenger and getting individuals to partake in it. Here, individuals were asked specific questions as regards their skin types and skin concerns. The product recommendations changed based on the feedback received.

The creation of the #NatureinMe camera filter on Instagram and encouraging women to try it out.

Imputing the "Learn More "option in ads that redirected clocks to the Instagram Stories Valeria view. Here a personalized virtual experience of trying out the St. Ives scrub on the individual's skin is created using an Augmented reality filter (AR)

Use of automatic placements Features on Facebook to deliver created ads across Facebook and also Instagram. Done in Image and Video video format in Live feed, stories, and also Messenger. This campaign targeted women between 18-44 years old residing in the United Arab Emirates(UAE) and the Kingdom of Saudi Arabia (KSA).
Successful results:
The results of this campaign were achieved between April 13 – July 26, 2019.
Establishment of St. Ives Natural Skincare line as one of the major skin care brands in the United Arab Emirates (UAE) and also the Kingdom of Saudi Arabia (KSA).

A 4.7-point rise in the brand's favourability

An increase in sales in the face category in the United Arab Emirates (UAE) by 2.7times

A 3x increase in sales in the face category in the kingdom of Saudi Arabia (KSA)

A 14-point increase in the ad recalls
Conclusion: Chatbots in Business
The stories mentioned above are only drops of water in an ocean full of success stories. It is crucial that as you look into these stories, you also look at the failed ones. This would help you strategize better while maximizing your basic knowledge of Facebook Messenger Chatbots. The Messenger Chatbots come with several benefits that can only be tapped into if used correctly. These chatbots are handy and can contribute a significant part to your business's success and growth. 
Chatbots play a significant role in offering your customers a fantastic customer service experience while also helping boost sales, increase, and identify leads and leads conversion. They also give you a better opportunity and more time to handle business issues and areas that a Messenger Chatbot cannot control. A careful study of these companies' strategies and steps is a great way to start off your Messenger Chatbots journey. 
That said. Why not take this for a spin with Clepher?
---
Related Posts