9
MIN READ
Messenger Chatbots are not only a fantastic way to interact with customers and prospects. They're great for lead qualification too! With Messenger, you can chat directly with people through the Messenger app on desktop and mobile devices. This is super powerful! Your customers and prospects are likely to be consuming a ton of content through their phones. And while Messenger bots are an amazing way to interact directly with customers and prospects without having to capture their email addresses or phone numbers first.
Now, you ultimately want the most interested and hottest leads giving you their email addresses and phone numbers. But, how exactly do you set up your chatbot to pick out those HOT leads that are so desperate to buy your products and service? Well, in this article, you discover precisely how Messenger Chatbots can be used for lead qualification.
Messenger Chatbots & Lead Qualification
For many businesses, qualifying leads with chatbots is an increasingly important part of their marketing strategy. In the past, the goal for lead qualification was to get as many leads as possible on a list. Qualifying them meant making sure that they were interested in your product or service and seeing if they were qualified to buy. Today, qualification has changed — it's just not simple enough to prove that a person who wants to buy from you fits your target profile of customers. The qualification process now includes getting the hottest leads that are so anxious to purchase your products or services. Qualifying leads also means ensuring that the lead is qualified to buy from you.
These days, qualification involves more than proving interest or qualification — and it's done through laser focus lead generation with Messenger Chatbots. Qualifying leads with Messenger chatbots means focusing your efforts on getting just the most qualified and interested leads through chat rather than hosting a broad marketing campaign. WHILE GETTING THE SAME RESULTS at lightning speed.
Using Chatbots to Qualify Leads – The Basics
But, how do you actually qualify leads with chatbots? The first step is to create a Messenger Chatbot with Clepher. But, before we get ahead of ourselves, take a look at this list which covers the essential basics.
In this bulleted list, you find the core basics for lead qualification with chatbots:
Qualifying a lead is the process in which you determine if your prospect or customer has interest and assets that can be converted into sales.

To get started, first create a Messenger bot using Clepher, then link it to your Facebook page so people will be able to find and talk with it on Facebook, Messenger, Instagram, or your website.

Next, add some basic AI features to the bot by adding one of these lead qualifying messenger bot templates to it (they come included with Clepher).

Once that's done, you wait for people to talk with your chatbot, and your chatbot automatically starts qualifying them. Sifting out the hot leads.

You don't have to wait though, you can simply speed up the process by setting up a Click-to-Messenger Ad that leads to your chatbot.
Chatbots have been proven to be successful for lead generation by a ton of different companies. I mean, did you know that a study by Salesforce found that 52% of consumers prefer to interact with a chatbot instead of a human when it comes to ordering products or services? Impressive stat, right?
This only goes to show that chatbots are here to stay, and they should be adapted in your sales and lead qualification process as well. As the marketplace for messenger bots is ever-growing, there will be an increasing number of companies to follow suit and use Messenger chatbots to qualify leads. Not to mention the fact that by using a chatbot, you can have conversations and build relationships with your prospects while being more efficient at lead qualification.
So, what is the best way to use Messenger Chatbots to Qualify Leads?
There tons of cool ways on how to use Messenger chatbots to qualify leads. But the coolest is probably using a Messenger chatbot in conjunction with a Lead Framework. So, here are some of the lead qualification frameworks you can use Messenger to capture better-qualified leads.
5 proven Frameworks & Strategies for Qualifying Leads.
What's cool is that you can set up each of these lead qualifying frameworks in your chatbot. Better yet, we've already done the work for you. Meaning, you only have to install a template, change some wording to customize it to your niche/industry, and you already have the framework qualifying leads through your bot.
We've created Chatbot Flows for the following Frameworks: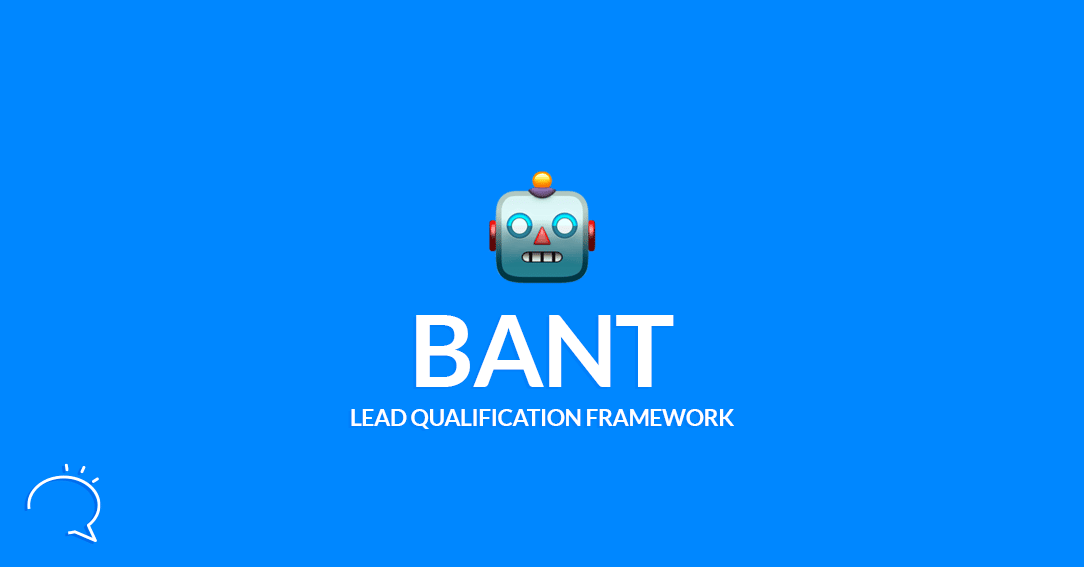 The BANT Framework: 
This Lead Qualification Framework is one of the most used frameworks for lead qualification. It's powerful, simple, and effective and requires a low amount of effort from your end to implement into your sales process with a chatbot.
Budget – Is the customer interested in your budget range?

Authority – Do they have the authority to make a purchase?

Need – What does the customer need or want from you?

Timing – When are they looking to buy?
It's a simple 4-step process that helps you qualify your lead. All you have to do is ask these 4 questions, and your prospect has to respond with a yes or no. Depending on their response, they move from one stage to another in the qualification process. If all goes well, when they reach step 4 (or close), it's most likely that you can make a sale and sell your product or service.
ANUM Framework:
The ANUM Lead Qualification Framework is another excellent way to qualify and convert leads using Messenger. Here's how it looks like:
Authority – Do they have the authority to make a purchase?

Need – What does the lead need or want from you?

Urgency – Will the lead make up his mind or long-drawn-out process?

Money – Does the customer have the resources to buy? in your budget range?
Once you've set up your bot with the ANUM framework, you have a way of qualifying prospects in bulk by sending them through your chatbot. As it provides for instant approval or denial of their need for an urgent purchase. And once they've walked themselves through the qualifying questions, some of them are now one step closer to becoming a customer.
MEDDIC Framework:
The MEDDICC Qualification Framework is a process where you will ask your lead questions aligned to their desired outcome.
Metric – how much money will it make or save the lead?

Economic buyer – Do they have the authority to make a purchase?

Decision criteria – Are there factors holding them back from purchasing?

Decision process – What is the lead's process for buying

Identify pain – What are the primary business objectives

Competition – Are there any competitors offering something similar?

Champion – Who is going to sell your product to this company?
Just like the other qualifying frameworks for leads, this framework helps you qualify leads by asking what they are looking to get from talking with you in the first place. So make sure you know why prospects want to talk with you and how you can help them achieve their goals.
The questions you want to ask should align with your desired outcomes, which is why this lead qualification framework will help you steer the conversation towards your outcome. It's a highly effective and powerful way of qualifying leads, especially when coming through a chatbot created by Clepher.
CHAMP Framework:
The CHAMP Qualification Framework is taken from the Challenger Sale concept. It's a process where you ask questions based on different decision-making stages, and they guide your prospects until they are ready to buy.
Challenge – What challenges does your prospect face?

Agreement – What level of agreement do they have?

Money – Does the customer have resources to buy in your budget range?

Preference – What are their preferences and decision-making processes?
In contrast with the others, this framework helps you qualify leads by asking them questions about holding them back from making an investment. Qualifying leads with this framework gets them to come up with why they are not ready for an investment, and by asking those questions, you help get your prospects to make a decision. Another great framework to put through a Messenger bot.
FAINT  Framework:
The FAINT Qualification Framework is the easiest one to understand and follow. Based on the acronym, it means:
Funds – The customer's funds and how highly they should be prioritized?

Authority – Is this a decision-maker? How much power?

Interest – How much interest they're showing in your product?

Needs – What does the customer need or want from you?

Timing – When are they looking to buy?
Just like the MEDDIC Qualification Framework, this Qualifying Lead framework is also meant to lead a conversation with your prospect that leads towards their desired outcome. The FAINT Qualification Framework is highly effective in qualifying leads through Messenger chatbots, primarily when you target multiple options ready for investment.
Why should you use these frameworks to qualify leads through your chatbot?
Because they are proven. Lead Qualification Frameworks have been around for years. We've all used them to qualify leads, and the results we get from them are promising to say the least. This is why Messenger Qualified Leads are the next big thing for your business. Take The BANT Qualification Framework, for example; it's been around for several decades now. It was developed in the 1960s to help salesmen qualify their prospects and drive home more revenue.
That's even before computers were a thing. Qualifying leads should be at the heart of your sales and marketing processes. That's why using Messenger to get qualified leads is a good idea for expanding your lead generation campaigns, increasing revenue, and improving customer satisfaction.
Who can use these frameworks for qualifying leads, and how would they do that?
When you want to sell your products or services and get more customers for your business, lead qualification frameworks are something you should definitely be using. Because qualifying leads ensures that you're only taking the most qualified prospects on board. It just helps you to sift through a lot of the noise. The crappy thing that until now you had to do is via email, phone, or weird little quiz surveys. It's all very static and stale. Right now, with Messenger Chatbots, you can do it through conversations, which is just way more exciting for the prospects. Plus, a chatbot gives you a hands-free way of getting hordes of leads that are self-qualifying.
Say you have a Messenger Qualification Bot that asks the questions from ANUM Framework and sends leads into an automated sales funnel. You can be sure that these qualified leads will end up as customers and not just sit there doing nothing. Let's say your chatbot is aimed at a target audience of eCommerce stores. Qualifying leads with any of the templates inside Clepher is a sure way to increase your sales. How? ​Because the framework helps you sift through and get rid of all the bad prospects who might submit tons of unwanted emails or will call up trying to make appointments that are just not suitable for you.
This means that your sales and marketing funnels will be way more efficient at getting you the right customer. After all, that's what they are there for. To help you generate revenue while reducing wasted time and resources spent on wrong leads.
Here's How To Install This Flow On Your Chatbot:
Get access to Clepher (if you didn't already)
Log in to Clepher.
Navigate to your desired page
Hover over the Automation Tab, and click "Flows"
Then, click on "Create New". Give your Flow a name and Select the Type Promotional.

You're redirected to the Composer.

A Window Pops-up asking if you would like to Import a Flow, Click "Import a Flow".

If you want to Import a Flow in an existing Flow, click the 3 dots in the right upper corner.

A new Pop-up appears the drop-down contains all your Flows you've cross pages but also contains Premium Flows
Search for "Lead Qualification", or "Premium – Lead Qualification", and it should show the Lead Qualification Flows!
Then simply import the Flow!
Closing Thoughts on Lead Qualification with Messenger Chatbots
Lead qualification frameworks help guide conversations and decisions. Qualifying leads can be a tedious process, but using the proper lead qualification framework will help you qualify leads and take them to the next step of becoming your customers. It should not be spammy or pushy; instead, ask questions that align with their desired outcome to get what they want without even realizing it. It's all about helping your prospects make wise decisions on selling, buying, or investing in your products or services. Qualifying leads will help you get better results with less effort.
That's why qualifying leads with Clepher chatbots are a fantastic way to expand your lead generation campaigns and sales funnels by reaching out to more potential buyers. Qualifying leads is all about making sure that you're taking the right people in as your customer. So if you have a product or service that can help someone solve their problems, Messenger Qualification Bots are definitely something you need to start adding to your business.
You don't have to find the winning strategy first; you can just try anything and see what works for you. Test it out! You won't know until you know. Go ahead and begin your Messenger bot strategy today! Lead qualification is just one way you can use this platform. There are so many possibilities that might work well for your business or organization. Let's find out, shall we?
Click here to give Clepher a try!
---
Related Posts